Every Sunday I sit down and make up a plan of attack for the upcoming week. A list of goals in all areas of my life that I would like to accomplish to help keep me staying productive. Then on Mondays I share that list here with you in a great weekly link up called Starting Successful on Mondays. Why that name? Because I have longed believed that if you start your week with a clear set of goals in mind you will have a productive successful week. When you have focus it's easier to remember what you want to get done and why. I started the link up to help encourage others in their weekly goals and for a way for everyone to encourage each other. Feel free to use the goal 'categories' I have set for myself or make your own then link back up here every Monday through Tuesday.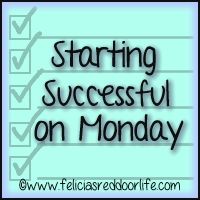 Rules for Starting Successful on Mondays
Grab the button above and put it either on your blog or in your post.
Link up you weekly plan post to the link up below
Make sure to visit the other bloggers and encourage them on their week!
If you would be interested in co-hosting for a week shoot me an email!
Scripture
I can do all things through Christ who strengthens me.  Philippians 4:13
Focus
Keep Calm
With one week until Christmas this week is bound to get a bit hectic as I try to keep up here and get my house ready for the invasion on Christmas Eve by my extended family.  I need to focus on keeping calm and staying sane throughout the week so when the 24th does get here it won't find me running around like a mad person. There are school crafts to do, a school party and play to attend, picking up Kyla for the holidays, possibly my father coming in plus all the  normal life things that come with  being a wife and mother. *deep breaths*
Currently
Watching football with Mike as Hayley practices counting backwards from 10. I need to finish my grocery list before the birthday party for one of Hayley's classmates. It's been one of those lazy days, I started up way to late trying to finish Under the Dome. It was such a good book, really swallowed me up. But after staying up so late I'm pretty worthless today.
Weather
This week looks like it's going to be a normal mild winter weather week for Louisiana. Mid sixties to low seventies and a slight chance of rain which means if we are going to get the years cleaned before the party next week we are going to have took work fast.
The Great Agenda
To Do Last Week
clean out mud closet
catch up on the massive amounts of laundry I can't seem to get done
clean bathrooms
finish the Following season 1 *guilty pleasure*
Make cut out sugar cookies with the girls this weekend
Go watch Catching Fire with mom!!
Make more pancakes for the freezer, Hayley's been eating pancakes like crazy the past week
Get mom's books loaded on the Kindle
Order chemicals for the spa
Enter in all coke reward points
To Do This Week
finish Christmas t-shirts at school
finish Bakers Dozen and write review
fix that dag nabbit light in my closet before I go nuts!!!!!!
work on my zentangles
plan my day that Mike is giving to me for our upcoming anniversary
clean wood floors
get house ready for Christmas Eve Party
keep house clean
Menu
Monday~ (B) blue berry pancakes (L) grilled cheese/tomato soup (D) broccoli and chicken casserole
Tuesday~(B) pumpkin pie french toast sticks (L) pork chops, veggies, rice (D) shrimp spaghetti, garlic bread
Wednesday~(B) biscuits, sausage (L)leftovers (D) taco night
Thursday~(B) oatmeal, sausage (L) possible eat out (D) chilli and cornbread
Friday~(B) grits and bacon (L) leftovers (D) pulled pork sandwiches
Saturday~(B) pop tarts (L) grilled ham and cheese (D) popcorn chicken,shells and cheese, veggies
Sunday~(B) cereal (L) rump roast (D) leftovers
What I'm Reading Now
Wife After God by Unveiled Wife
Bakers Dozen by M Will Smith
The Dark Half by Stephen King
On the Blog
Post my half-finished Christmas Bucket list…now that there's only a week left
get book review up
get guest post up for Tasty Thursday
continue practicing  jab,jab,jab, right hooking on social media
work on craft project for blog